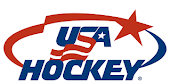 All New Jersey Falcons player, coaches, and managers are required to register with USA Hockey annually. Use this link to submit your/your players 2019-20 USA Hockey number.

USA Hockey 2019-20 Season Renew/Register
If you have not renewed your USA Hockey membership, use the link below to register your player or yourself and submit his/her USA hockey number using the red "Submit USA Hockey #" button on this page.